In the heyday of the delphic oracle, the Temple of Apollo at Delphi was probably the most magnificent structure on the site.
It was situated on a platform half way up the hillside, and would have dominated the view of pilgrims as they made their approach up the Sacred Way.
Early temples
Archaeologists believe a number of temples were built on the site in previous centuries. The earliest ones may have been constructed of wood, and legend has it that the first one – more like a hut than a temple – was made from laurel branches.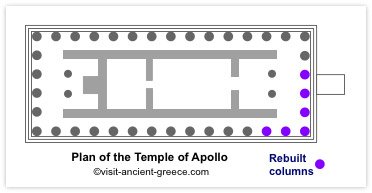 The mythical architects Trophonios and Agamedes were supposed to have built a temple in the middle of the 7th C BC with the help of Apollo himself. They used poros stone, and bits of it have been found in different sections of walls. The upper sections were made of brick, and the roof of wood. This temple burnt down in 548 BC.
Many individuals and states contributed to the cost of replacing it, and it was finished around 500 BC. It was probably destroyed in an earthquake which occurred in 373 BC.
Held in high regard
It's important to remember that Delphi was not another city state in Greece. It was more of a religious centre than anything else. Because of the delphic oracle, the site was held in high regard by all Greeks. Although they may have fought each other incessantly, they had no problem with donating money towards the cost of a new Temple of Apollo at Delphi.
Again, contributions were made from all parts of Greece. Most contributions were freely given, some were forced, such as those from the people of Phokis who had been defeated in the Third Sacred War (357 – 346 BC). The temple was finally inaugurated in 330 BC.
Structural details
Different sorts of materials were used in the construction. The foundations were made of poros-stone, which were covered by local gray limestone. The columns and entablature used poros-stone from Sikyon and had a coat of stucco applied. Floors and walls were made of gray limestone, while the roof and pediments were made of marble from the island of Paros.
Inside the temple
The interior of the Temple of Apollo at Delphi contained a number of statues. These included statues of Poseidon, two of the Fates, one of Zeus and of Apollo himself. At the rear of the 'cella' – one of the inner sections of a Greek temple – was a hestia, or hearth. Pindar referred to it as the "common hearth of all the Greeks". Pindar also had an iron throne, and he used to sit on it when he came to Delphi to sing hymns to Apollo.
Return to Sanctuary of Apollo map