Explore Ancient Greece
This website is a guide to the main places where the ancient Greeks lived, and the civilization they created. There are photos, diagrams and maps to help you understand what you are seeing.
Birthplace of western civilization
Yes, there are still some magnificent remains of this ancient way of life to be seen during a visit to Greece.
If you travel to Greece it would be a shame to stay in such a wonderful country and not appreciate its history and culture.
Whether you already have an interest in ancient Greece or a visit to an ancient site is something you might 'do' while you're there, a fascinating world awaits you.

Explore beautiful Greek islands
Find out all about these special islands and their attractions as well as their significance in ancient history.
Ancient Greece Meets Modern Fun
Ancient Greece is fascinating to all ages; we delight in either the real Spartan 300 warriors, the mythical gods and goddesses or the philosopher Socrates. Plus we learn so much about our current culture by understanding the basics, the roots, of our western civilization.
In today's Greece you can still experience and understand ancient history by visiting thousand year old ruins while enjoying sea, sand and sun.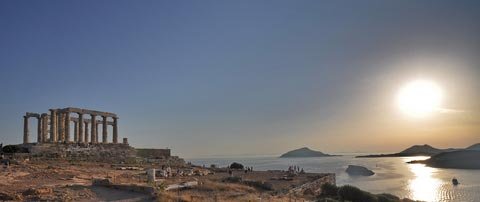 Explore all the Destinations
"Mighty indeed are the marks and monuments of our empire which we have left. Future ages will wonder at us, as the present age wonders at us now."
Pericles, 5th century BC
Other Ancient Greek Interest

Remember, no human condition is ever permanent. Then you will not be overjoyed in good fortune nor too scornful in misfortune.
Refresh page for next random quote.

We have a huge variety of content on all aspects of Ancient Greece then and now including Recent Discoveries. All pages and posts listed HERE