Not only were there numerous ancient Greek city/states in present day Italy but they are among the best preserved in the entire Mediterranean area.
These interesting locations include Syracuse, Agrigento, Segesta, Salaunte and Taormina.
Probably the most well known today as well as the most powerful in ancient times was Syracuse (Siracusa), founded by colonists from Corinth about 733 B.C. Archimedes, mathematician and engineer, was born here in 287 B.C. Eureka! The most impressive temple, that to Diana, is now a Roman Catholic Cathedral and hidden behind a Baroque facade. After the theatre above the most visible is the Temple of Apollo found right in the city.
I would rate it a toss-up for the most striking of the ancient Greek ruins between Agrigento and Segesta.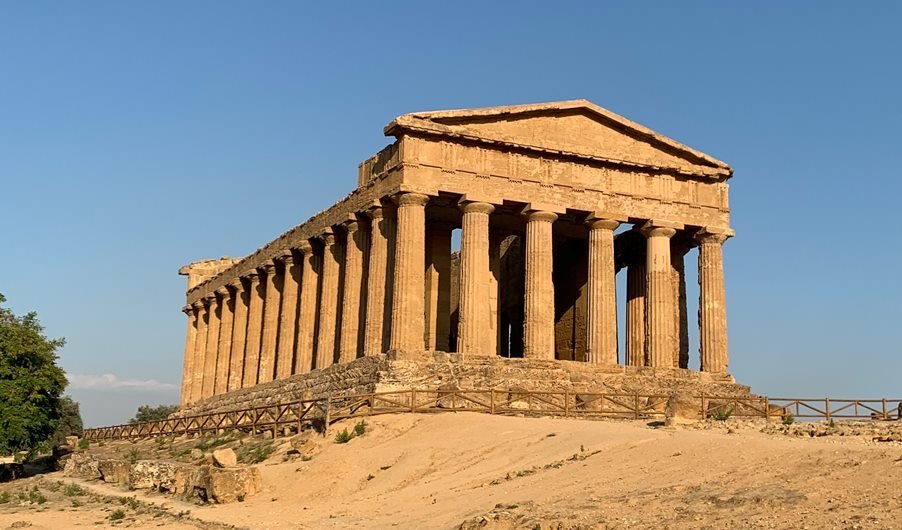 The Temple at Segesta, built of all Doric columns, never had a roof nor a resident god as far as I can tell. It was started by an indigenous people, the Elymians, then taken over by Greek colonists. It is said it was never finished due to fighting with nearby Selinus (Selinute), which in turn was totally destroyed by the Carthaginians.
If you like the idea of combining ancient Greek studies with modern sea, sand and sun, visit Taormina. More on this concept at Surfing Ancient Greece.
If you would like more facts and figures about these ancient Greek temples in Sicily, the Ancient History Encyclopedia has an excellent article HERE.