Chania is the second largest town in Crete, and to many visitors is the most attractive. It has an idyllic Venetian harbour including an old lighthouse, lined with tavernas and restaurants. The Venetians also left their mark with their architecture, and the Topanas district, an old part of the town, attracts many visitors.
Western Crete has great scenic beauty, and the town is ideally situated to use as a base for exploration. Although there are no large archaeological sites such as Knossos or Phaistos in this western part of the island, there are some smaller places worth a look as you travel around enjoying the scenery and views.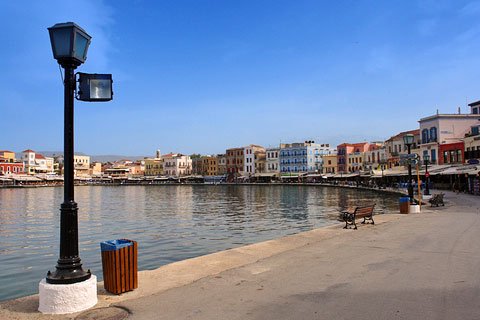 Museums
There's a very good Archaeological Museum in the gothic San Francesco church. The finds displayed there date right back from the Neolithic period to the Romans. There are some fine examples of jewellery from the Hellenistic period, and from the later 3rd C BC Roman mosaics.
You'll find other museums in the town as well. There is a Nautical museum in the old Venetian fortress in the west of the harbour. To the south of the town in a Catholic church is a Cretan folk art museum. South of the old town is a Historical museum which contains exhibits from the Greek War of Independence and WW2.
Ancient sites
As we mentioned, there are no large ancient archaeological sites in this part of the island, but there are a few smaller ones worthy of a visit. About 9 miles (14km) east of the town are the ruins of Aptera. This was a city dating from the times of the Dorians in about 1000 BC. It was occupied until Byzantine times. You can get some fine views of the Akrotiri peninsula and Souda bay from here.
Going west from Chania you'll find the Rhodopou peninsula. At the northeast end a shrine of the Nymph Diktynna was found. She was believed to protect fishermen. Nearby are the remains of a temple from the 2nd C AD. Although you can get to this part of the island by car and walking, the best way is probably to take one of the boat trips which operate from Kolimbari. Sometimes a boat service is run from Chania.
Lissos
If you drive down to the south coast to the town to Sougia, there is a very nice walk from there to Agios Kyrikos Bay. Parts of it are a bit rough, so ware good shoes or walking boots. It takes about two hours to walk there and back, so take some refreshments (especially water) with you as there are no shops. The bay is the site of ancient Lissos, which was famous in ancient times for it's mineral springs.
This is also the site of a sanctuary to Asklepios. You can see the remains of the temple, including cella walls and floor mosaics. There are also the remains of Roman houses, and some Roman and Hellenistic graves.
Return to Crete page
Or on to Crete Map